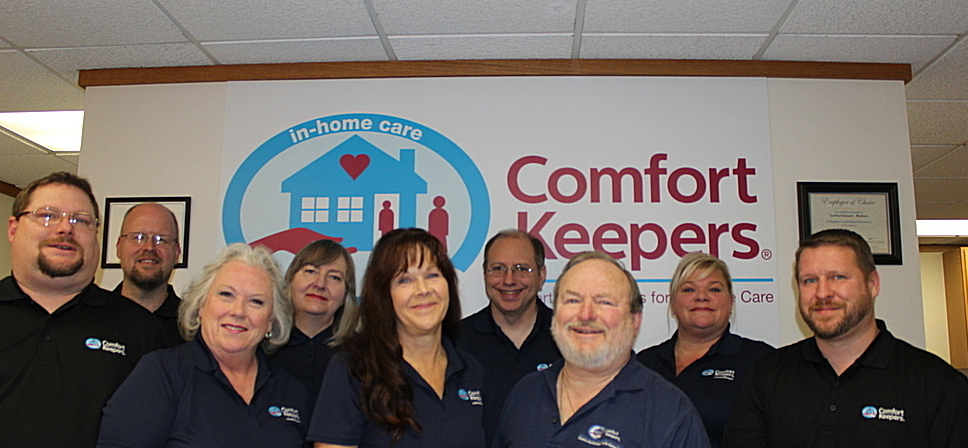 Comfort Keepers of Madison, WI is the leading provider of in-home senior care in the Madison area. Our expert caregivers provide customized plans that may include personal care and companionship-homemaker services. We help seniors and other adults live an independent, quality life.
At Comfort Keepers, we believe that your elderly loved one deserves the best quality in-home care. And we want you to have peace of mind knowing they have the help they need.
"Comfort Keeper caregiver was a wonderful person, who took care of my mother as if she was her own mother."
"Thank you for your help in taking care our mother Rose. You taught Randy and me a lot of tricks. You were all so kind in helping us on such short notice back in May. We greatly appreciate your kindness."
James Rudolph has been involved in Comfort Keepers from its inception and has risen from being a caregiver to scheduler to General Manager. He has served in virtually every position within the organization. Jim is responsible for all aspects of the operation. He is especially wonderful w ith elders and possesses an innate ability to communicate with them and secure their respect. Jim provides strategic and dynamic leadership through proper planning, team development and management direction. He also ensures client satisfaction w ith all aspects of the care giving process, ensuring that Comfort Keepers of Madison meets and exceeds the requirements set forth in its mission and vision statements. Whether it is companionship home care or personal care, Jim makes sure it gets done well. He is also a Certified Senior Advisor (CSA) and a member of the Society of Certified Senior Advisors.
Stephen P. Rudolph, FACHE, is a board certified health care executive and a Fellow in the American College of Health Care Executives (FACHE). He has nearly thirty years in the health care management field with operational and sales experience in hospitals, health care associations, clinics, HMOs, PPOs and insurance companies. He has been the Chief Operating Officer of a statew ide insurance company, helped start up and operate one of the first HMOs in Dane County and has served as Vice President, Corporate Business Development Sales and Service at the state's largest PPO. He is an active health care and insurance consultant. He has a Master's Degree in Health Care Administration from George Washington University in Washington DC and has been a licensed Nursing Home Administrator since 1975. He is also a Certified Senior Advisor (CSA) and a member of the Society of Certified Senior Advisors.
Operations Manager at Comfort Keepers, 2009 to present
Caregiver/ Certified Nursing Assistant, 2003 to present
Certified Nursing Assistant Course, Madison Area Technical College (2007)
Promoted to operations manager in 2009 after 6 years as a caregiver/CNA.
Jason was born and raised in Edgerton WI and currently reside there.   He obtained his Bachelor Degree in Human Resource Management back in 2012 but was not satisfied so he went on and obtained his MBA with an emphasis in Organizational Development.  Jason has worked in an office environment for many years in many different capacities including accounting, office administration and currently Human Resources.  Jason really enjoys his work and looks forward to working with Comfort Keepers for years to come.
Julie Shultz has worked for Comfort Keepers for 4 years.  She is a registered nurse with a Bachelor of Science degree in nursing from Edgewood College in Madison.  Julie also has her Care Manager Certification, along with 30 years experience in the field of nursing in geriatrics and home care.  Along with her husband, they have one grown child.